Despite Eviction, Occupy Philly Marches On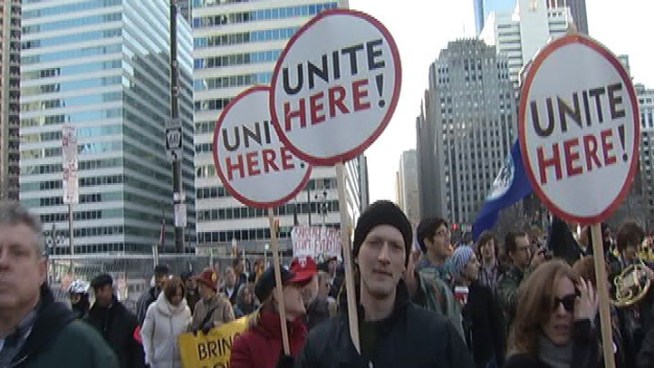 (photo: NBCphilly)
"It was a busy Saturday for Occupy Philly. Members met at the Thomas Paine Plaza at 9 a.m. and were then shuttled to 27th and Sterner Streets to partake in a cleanup project.
The group also held a launch party at noon at Thomas Paine for "a day of celebration as we launch the newly formed 'Free Speech Demonstration Space' at Thomas Paine Plaza."
Finally, at 2 p.m., group members marched from 15th and Market to Independence Hall.
The group vowed to continue their movement against corporate greed and economic inequality despite the demise of their tent city at City Hall, and they challenged the city's assessment that their eviction occurred in a peaceful and orderly fashion.
 
Police raided the group's nearly 2-month-old tent city early Wednesday, and 52 people were arrested in the aftermath of the raid, as dozens of protesters began roving through downtown. Mayor Michael Nutter and Police Commissioner Charles Ramsey have praised the officers involved for avoiding major problems like those that have come in other cities, saying they showed a tremendous amount of restraint and professionalism.
 
City officials also announced Friday that the protests had cost the city a little more than $1 million, about 90 percent of that in police overtime.
Gwen Snyder, one of the group's leaders, said some members will lobby to reform in Washington, D.C., next week. However, they have not decided whether to apply for another permit in Philadelphia.
 
"We are still strong, stronger than ever and galvanized by the events of the eviction," she said. "Eviction is not an ending. It is an escalation."~Read More: NBCPhilly

@Occupyphilly: https://twitter.com/#!/OccupyPhilly
On Facebook: https://www.facebook.com/OccupyPhiladelphia
occupyphilly reblogged this from chaosnewsinc